The FIRST AND LONGEST RUNNING CHEERLEADING AND TUMBLING PROGRAM in Columbia!
Our mission is to run a program that is safe, fun, organized, and disciplined for children of all ages! We are dedicated to providing encouragement and qu
ality athletic training to girls and boys!
Thank you for voting us the Best of Columbia Cheerleading School!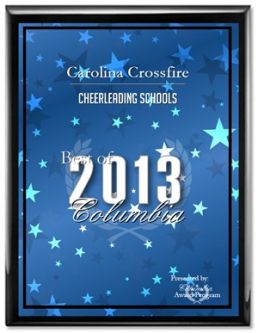 Miss our All-star Team Placement Clinic? No worries! It is not too late to join our award winning program! Progress and show off your skills, make new friends and have fun doing something you LOVE! Call us at 803.419.2920
Now enrolling for our 2014-2015 Fall/Winter Classes!