The FIRST AND LONGEST RUNNING CHEERLEADING AND TUMBLING PROGRAM in Columbia!
Our mission is to run a program that is safe, fun, organized, and disciplined for children of all ages! We are dedicated to providing encouragement and quality athletic training to girls and boys!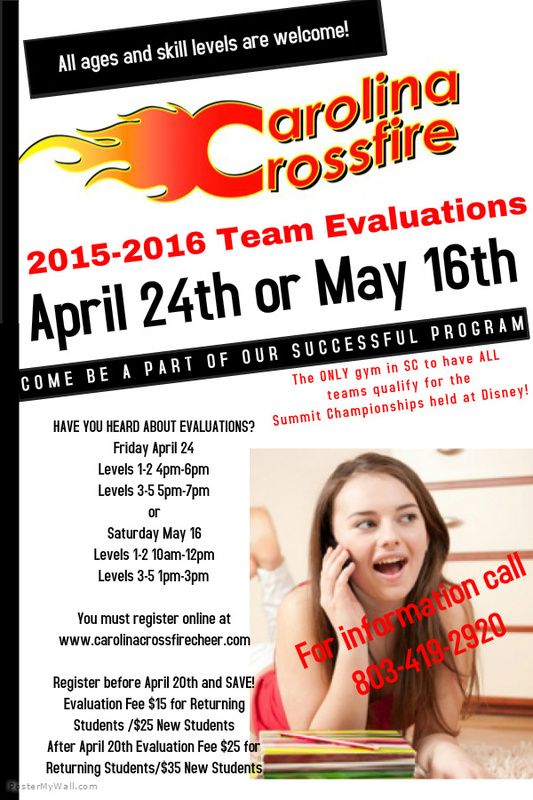 Register under "Register for Classes and Allstar Tab" on your left and find your day and level.
Ages 5-18 as of August 31, 2015
How do you know what level to register for?
Level 1- No experience needed! Basic tumbling skills such as forward rolls, handstands, cartwheels, round offs, front walkovers.
Level 2- Must have Back handspring, round off back handspring, or front handspring
Level 3- Two standing backhandsprings, Round off Back handspring Tuck, and a running pass ending in a tuck on the floor.
Level 4- Standing Back Tuck, Two Back handsprings to layout and running pass ending in a layout on the floor.
Level 5- Quad Jump to two Back handsprings, Standing two back handsprings to a full, round off back handspring full without a spot
For more information email us at cheercoachcce@aol.com or call 803-419-2920
Summer Camp Schedule Coming Soon! You can still register for classes! It is never too late!
CONGRATS TO ALL OF OUR CROSSFIRE ALLSTAR TEAMS ON WINNING BIDS TO THE SUMMIT HELD AT WALT DISNEY! What a HUGE accomplishment to say not one but EVERY every team received a bid to this prestigious event!! Don't know what the Summit is? This is the world's event for Allstar Levels 1-4! Televised on ESPN 3!!!
Also congrats to all our teams on their bids to the US Finals! Junior Voltage recieved a Paid Bid to US Finals held May 9-10th.
Your 2009, 2013, 2015 Cheersport National Champions
(World's Largest Cheerleading Competition)